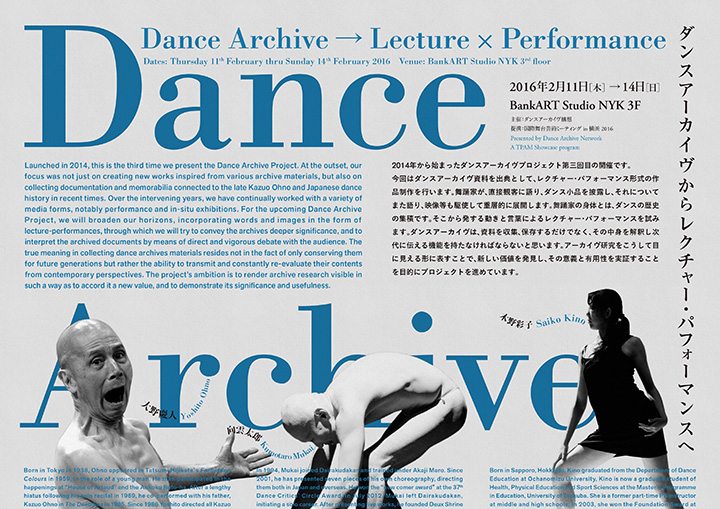 for Japanese
Dance Archive Project 2016

Dance Archive → Lecture × Performance
Launched in 2014, this is the third time we present the Dance Archive Project. At the outset, our focus was not just on creating new works inspired from various archive materials, but also on collecting documentation and memorabilia connected to the late Kazuo Ohno and Japanese dance history in recent times. Over the intervening years, we have continually worked with a variety of media forms, notably performance and in-situ exhibitions. For the upcoming Dance Archive Project, we will broaden our horizons, incorporating words and images in the form of lecture-performances, through which we will try to convey the archives deeper significance, and to interpret the archived documents by means of direct and vigorous debate with the audience. The true meaning in collecting dance archives materials resides not in the fact of only conserving them for future generations but rather the ability to transmit and constantly re-evaluate their contents from contemporary perspectives. The project's ambition is to render archive research visible in such a way as to accord it a new value, and to demonstrate its significance and usefulness.
Thursday 11th thru Sunday 14th February, 2016 at BankART Studio NYK 3rd floor

Ticket/Access
Program please click the title for more information

Download the flyer(

PDF / 1.8MB / 2pages)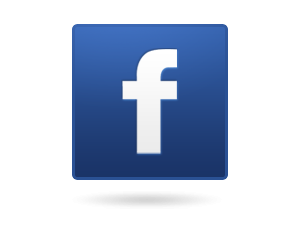 DAP2016 facebookページ
Yoshito Ohno
Lecture - Performance :

It Was That Way
Performed by Yoshito Ohno
In 1959, Yoshito Ohno was chosen by Tatsumi Hijikata as a partner for his dance piece Kinjiki (Forbidden Colours) – regarded as the first-ever Butoh performance. After this first duo, Yoshito Ohno appeared in all Hijikata's main pieces in early the 1960s. In this lecture-performance, Yoshito Ohno will talk about Butoh's genesis and history, demonstrating movements from his experience with Tatsumi Hijikata and his father Kazuo Ohno.
Thursday 11th February 20:30
Friday 12th February 19:00
Saturday 13th February 17:30
※Duration: about 60 minutes
※Questions
Please send us the questions you would like to ask Yoshito Ohno by e-mail in advance. We will prepare our archive materials in such a way that we can answer them during the Ohno lecture-demonstration. Please write us your name, your questions, and your contact information to info@kazuoohnodancestudio.com.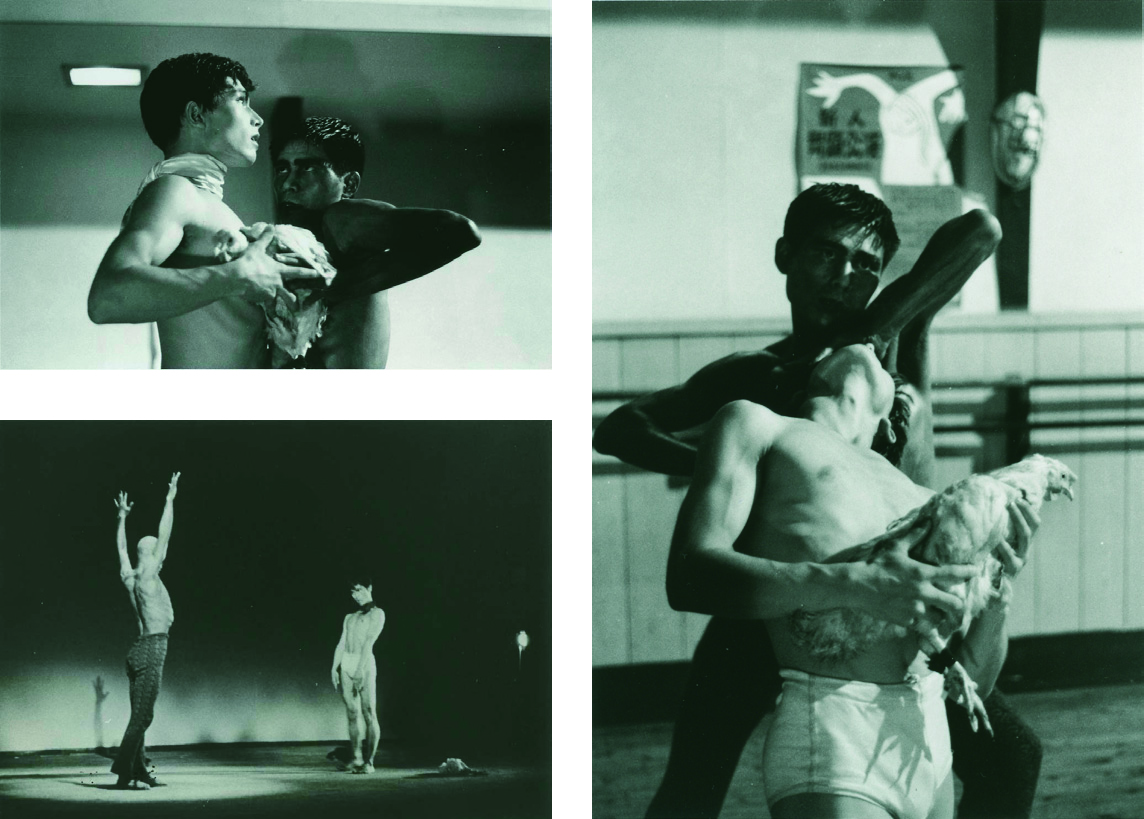 Tatumi Hijikata (1928-1986) and

Kinjiki

(Forbidden Colours)
Born in Akita-city, Hijikata studied modern dance under Katsuko Masumura after the Pacific War. In 1948, he moved to Tokyo. Influenced by French art and literature, he developed his own concept of dance during the 1950s, while in parallel studying jazz dance and classical ballet under Mitsuko Ando. His performance Kinjiki in 1959 paved the way for the foundation of Butoh, developing movement forms that embraced avant-garde and experimental tendencies. With works such as Masseur, Rose Coloured Dance, Tatsumi Hijikata and the Japanese: Rebellion of the Body he was constantly at the vanguard of the underground movement, while elaborating his concept of Butoh. During the 1970s Hijikata also developed a surreal choreographic language known as "butoh-fu". Kinjiki was shown at the 6th Newcomers Presentation event sponsored by the All Japan Arts Dance Association in May 1959. Though a short piece lasting no longer than 15 minutes, its erotic themes and expressive techniques led it to being regarded as the first-ever Butoh performance. Empathising with the lifestyle and writings of Jean Genet, Hijikata chose Yoshito Ohno in the role of his partner in a work based on the theme of homosexuality. Its innovative use of sound and lighting with a soundtrack containing groaning sounds on a dimly lit stage were to spark controversy, as was the scene in which killing a chicken was simulated.


Yoshito Ohno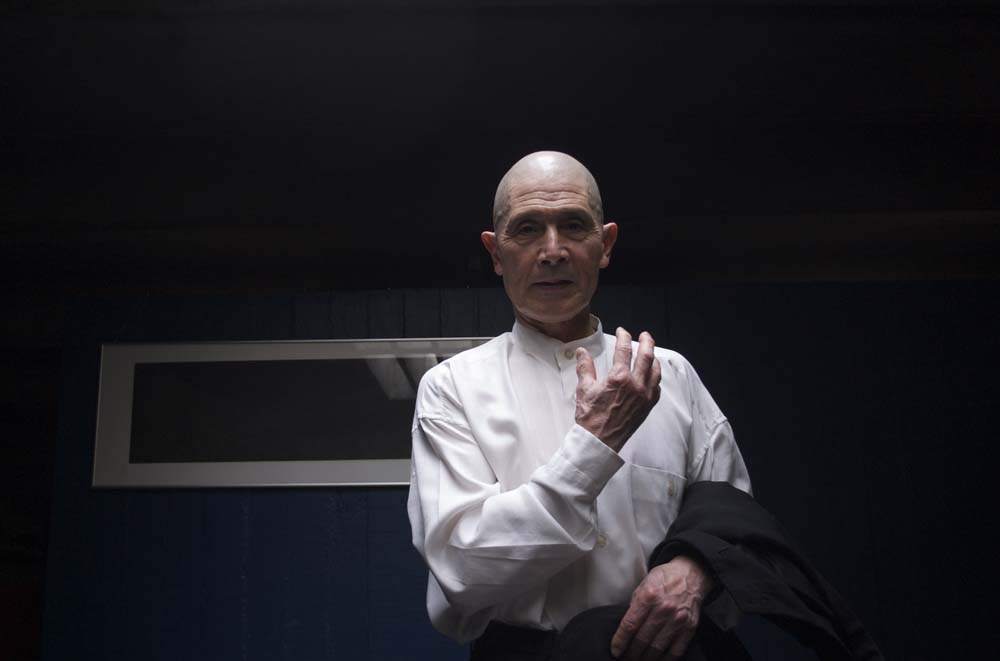 Born in Tokyo in 1938, Ohno appeared in Tatsumi Hijikata's Forbidden Colours in 1959, in the role of a young man. He then participated in the happenings at "House of Artaud" and the Ankoku Buto-ha. After a lengthy hiatus following his solo recital in 1969, he co-performed with his father, Kazuo Ohno in The Dead Sea in 1985. Since 1986 Yoshito directed all Kazuo Ohno's stage works. In 1998, he performed a solo piece The Last Portrait of Dorian Gray based on Masakatsu Gunji's script. Recent works include: A Promising Morning (2010), Time Wind (2012) and Flower and Bird (2013). He authored Food for the Soul (Film Art-sha/ Wesleyan University Press). The DVD Flowerbird: Butoh, A Way of Life (Canta Co.Ltd) was released in 2015.
Kumotaro Mukai
Butoh? Presentation Show / A La Maison De M. MUROVECI
Directed and performed by Kumotaro Mukai
On stage, anything is possible. This was the very thing brought to life by Tatsumi Hijikata in Kinjiki, the first-ever Butoh performance in 1959. Underlying this concept was a skeptical attitude; mistrusting one's assumption and prevalent social stereotypes, and his idea of "to hell with common sense!" I wonder what Butoh is all about. Is it a contemporary dance form that developed in Japan? Is it a dance form that once was at the vanguard of its time? Or, is it an underground theater art -form, which remains largely unknown? Is it without limits, absorbing everything around it? This piece is a presentation of such an elusive Butoh. "Butoh is hybrid", Ko Murobushi once said, as "Hybrid is unlimited" by William Burroughs.
Saturday 13th February 21:30 Late show
Sunday 14th February 18:00
※Duration: about 65 minutes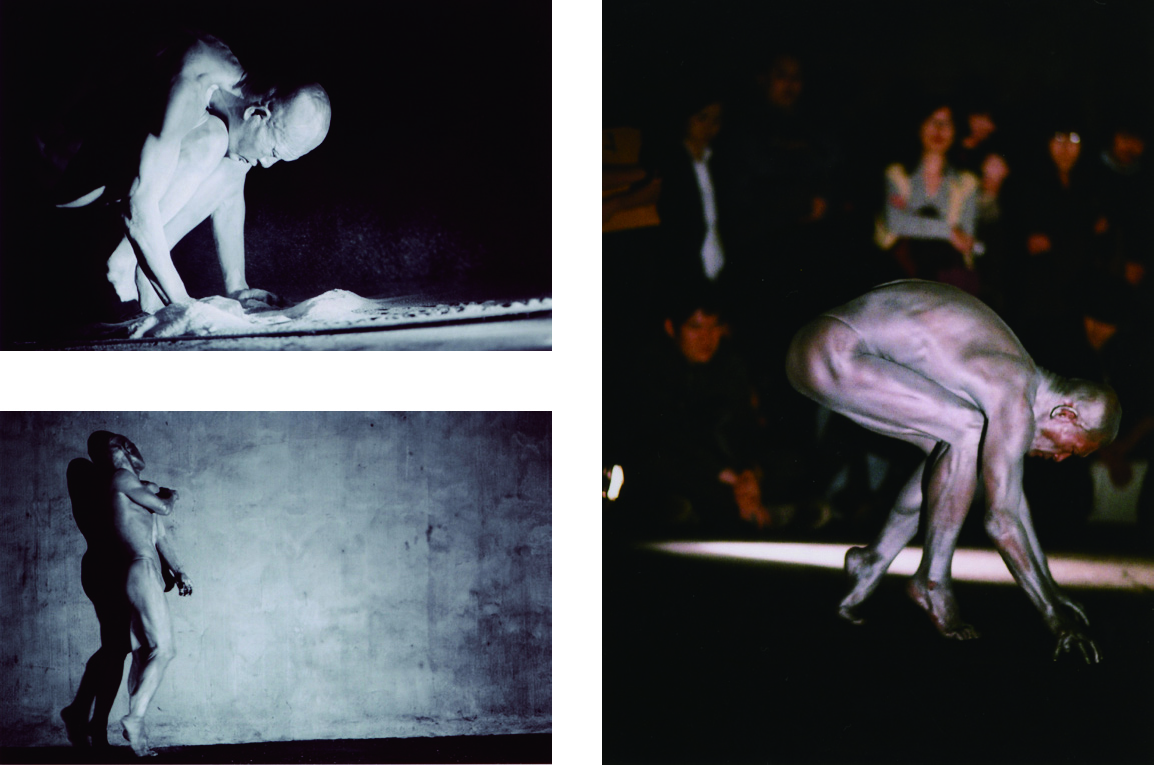 Ko Murobushi (1947-2015) and

quick silver
After studying under Tatsumi Hijikata, Murobushi co-established Dairakudakan with Akaji Maro in 1972. After founding an all-female butoh company, Ariadone no Kai, he established his own company Sebi in 1976, and opened a butoh theater Hokuryukyo in Fukui prefecture, Japan. In 1978, The Last Paradise ran for a month in Paris, serving as introduction for many to the Butoh world. Murobushi's Butoh performance quick silver was premiered at the 2005 Kazuo Ohno Dance Festival at BankART Studio NYK, before repairs began there. In this solo piece, his naked body painted in silver rolled over the dust-covered floor. Quicksilver is another name of mercury; the title of his piece, however is written in small letters because "it feels quicker". In 2006, he presented this piece at the Venice Biennale.


Kumotaro Mukai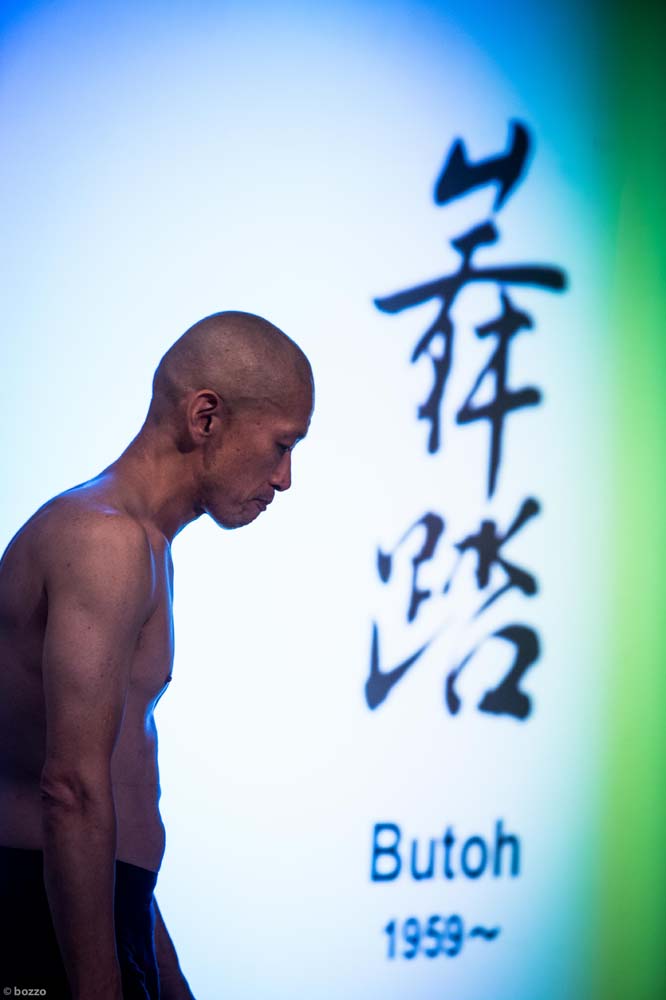 In 1994, Mukai joined Dairakudakan and trained under Akaji Maro. Since 2001, he has presented seven pieces of his own choreography, directing them both in Japan and overseas. He won the "new comer award" at the 37th Dance Critics' Circle Award. In July 2012, Mukai left Dairakudakan, initiating a solo career. After presenting five works, he founded Deux Shrine with Double Sun in 2014, and presented The Rite of Spring in 2015. At the core of his work are two constants: his own form of "butoh" that he has been working on, and "the atomic bomb". He is also a senior fellow of The Saison Foundation.
Saiko Kino
Dance Becoming Physical Education - Through the Life and Work of Kazuo Ohno, the PE Teacher
Performed by Saiko Kino and Yoko Hayashi
Kazuo Ohno was once a PE teacher. He started to learn dance when assigned to teach at Soshin Baptist Girls School, some years after graduating from the Japan Athletic Association gymnastics school. Nowadays, physical education consists of sports, gymnastics and dance. Why is dance included in physical education? Why are girls expected to study dance? The idea to rethink these simple questions occurred to me as I am a practicing PE teacher myself. What is the difference between everyday gymnastics with music accompaniment and dance? What was it about dance that appealed to Kazuo Ohno more than gymnastics? The answer should tell us about dance's characteristics. I would like to rethink the role of dance in physical education, particularly where its competitive aspect is growing in importance, given that the The Japan Sports Agency, established in October 2015, have now jurisdiction over physical education. I will have the audience do some light exercises during my lecture-performance, so please come comfortably dressed.
Thursday 11th February 14:00
Sunday 14th February 14:30
※Duration: about 60 minutes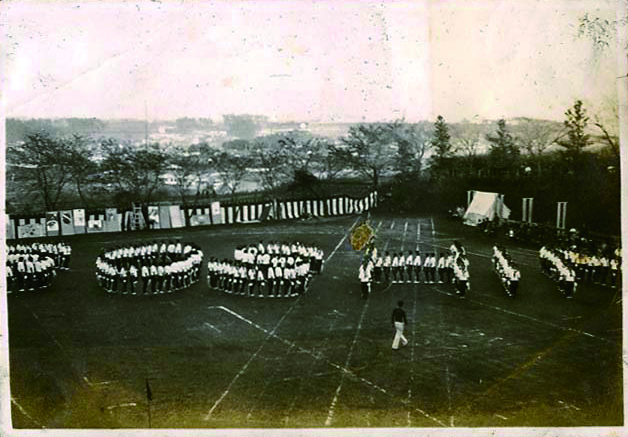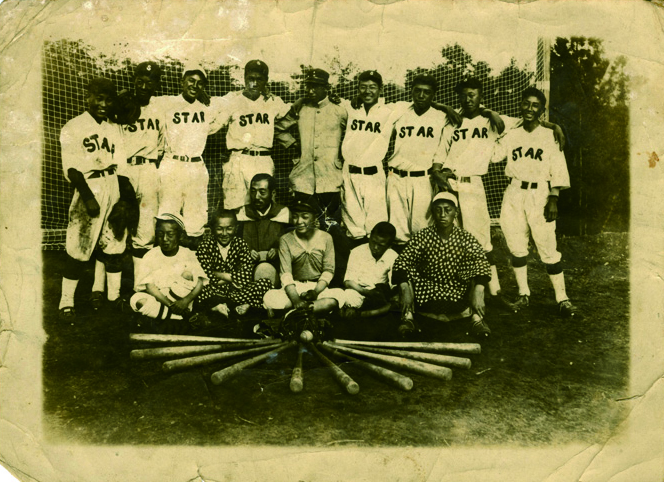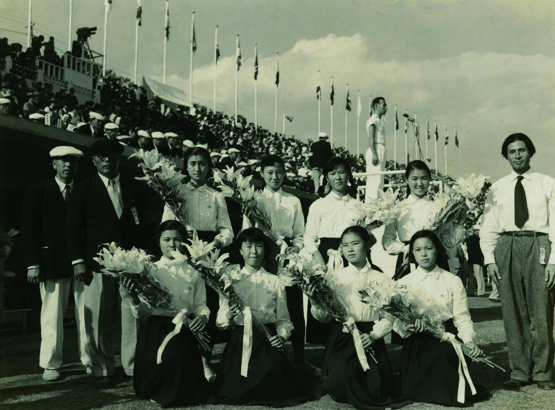 Kazuo Ohno (1906-2010) as a PE teacher
Born in Hakodate, Hokkaido, Kazuo Ohno was a gifted athlete. In his high-school days in Akita, he held the prefectural record in medium-distance running, and was fourth batter and first baseman in his baseball team. Upon graduating from Japan Athletic Association gymnastics school, now the Nippon Sport Science University, Ohno was employed as a PE instructor at the Kanto Gakuin in Yokohama. On being transferred to the Soshin Baptist Girls School, he joined the Baku Ishii Dance Institute and later studied under Takaya Eguchi and Misako Miya. Due to the Pacific War, he had to break away from dance for the war years, but on his return he became active as a modern dancer. In the 1950s he gave several modern dance recitals and met Tatsumi Hijikata. They worked together in the1960s, seeking out new dance forms. In 1977, Ohno presented Admiring La Argentina, directed by Hijikata and performed at the Nancy International Theater Festival in 1980. Ohno continued working as a PE instructor at Soshin Girls School before and after the Pacific War; after his retirement from teaching, he kept working at the school as a part-time janitor. He retired just before his overseas debut in 1980 but continued to direct and perform at their annual Christmas Nativity play.


Saiko Kino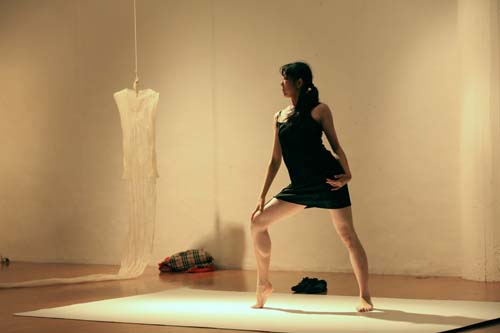 Born in Sapporo, Hokkaido, Kino graduated from the Department of Dance Education at Ochanomizu University, Kino is now a graduate student of Health, Physical Education and Sport Sciences at the Master's Programme in Education, University of Tsukuba. She is a former part-time PE instructor at middle and high schools. In 2003, she won the Foundation Award at Yokohama solo duo competition with Edge. She later joined Russell Maliphant Compny in UK as a dancer, and choreographed Ichl commissioned by The Place Prize 2008. Now based in Japan, she works both as a dancer and teacher. In projects such as Camelia and From Karatachi~Amanogawa Project she involves non-dancers' bodies to create pieces. Her representative works include Edge, Shizu, and Amanogawa Project.
Dance Archives Network
Centred around the Kazuo Ohno Dance Studio (Yokohama), the NPO Dance Creative Resources (Tokyo), and the Pina Bausch Foundation (Wuppertal), this project is working towards the establishment of creative dance archives in Japan. Launched in 2012, the vast documentation left behind by three of the dance world's seminal figures Kazuo Ohno, Tatsumi Hijikata, and Pina Bausch have since been shared with an ever growing wider public, while at the same time being progressively publishing and classified. We are looking forward to even more extensive co-production so to create new dance archives in the future.
Information
Tickets
Admission Fee:¥3,000 for each performance/Two Performances Passes ¥5,000/Three Performances Passes ¥6,000
TPAM Registration Benefit:¥4,500 for Two Performances Pass
Reservation and Queries
Please reserve by email with your name, your contact information, the kind and number of tickets and the date and time of your intending performance to the address below.
Kazuo Ohno Dance Studio info@kazuoohnodancestudio.com
We also take reservations by telephone : 03-3450-6507
Only cash payment at the door.
Enquiries
Canta Co. Ltd
TEL: 03-3450-6507
During Feb.10 thru 14 Please call 090-6158-7618
Email: info@kazuoohnodancestudio.com
Access
【BankART Studio NYK】
3-9 Kaigan-dori, Naka-ku, Yokohama
TEL 045-663-2812
Get off at Bashamichi station on the Yokohama Minato-mirai line. Take Exit 6 (Akarenga Soko Exit); it is about a 4-minutes walk.
Presented by:Dance Archive Network
A TPAM showcase program https://www.tpam.or.jp/2016/en/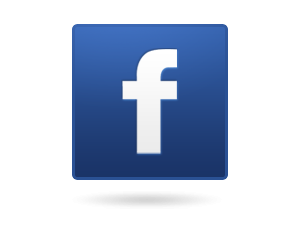 DAP2016 facebookページ