Jean Laurent Sasportes's Workshops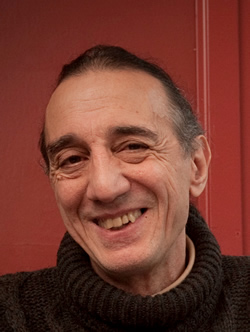 Date
May.13 & 20, 2012 (Sun)  14:00-16:30
Venue
Kazuo Ohno Dance Studio
1-20-15 Kamihoshikawa, Hodogaya, Yokohama
Fee
2000 yen  The reservation is required in advance.
Organized by Kazuo Ohno Dance Studio and Canta Co.Ltd
Contact
Canta Co. Ltd 03-3450-6507
info@kazuoohnodancestudio.com
*On the day of performance: Kazuo Ohno Dance Studio 045-381-2333
The class that I propose is divided in two main parts:
My work of «Mise en corps et en movement» (Jansannotaiso) start with a combination of exercises which alternate floor work in lying and sitting position, to allow to feel the lines of the body and different chains without being disturb by any balance difficulties, and the standing position to develop the feeling of verticality. It is about to feel the spiral pulsation which start in the feet and spread through the lines of the body. To experiment movement in its relation Earth- Sky in all its possibilities.
A good work of the back muscle chains require a good release of front muscle chains and vice versa. So releasing a muscle chain which alternate with the work of placing and muscling its antagonist.
In a vertical standing position, the alignment and lenghting of the body lines (from the feet to the top of the head) will alternate with the release standing position (releasing head and scapular belt, with bended knees). This will allow to avoid compensations and crispations while doing the exercises.
The workshop part is based on the study of movement analysis first from an abstract point of view. Five basics elements support this movement analysis
Those five elements are:
- The Form (a material structure, solid and filling up a certain volume into the space).
- Space (the scenic space into whitch the dancer or the actor will evolve, from this point starts the notion of motion into space).
- Motion (considered as the bridge between a form and another with the differents qualities of energy which characterize it).
- Timing (rhythm and the choice of intervention which can be fixed by the choreographer or be opened to the interpreter in improvisation).
- The rest and essential thing (or "the little flower" from Zeami)...
Each of those elements is studied separatly; then in connection with each other. Of course without forgetting that the basic idea of dance is to express our soul and emotions through movement
Jean Laurent Sasportes
Born in Casablanca, Morocco, in 1952. Studied mathematics, physics and philosophy. In1975, starts his carrier as dancer in Paris with Peter Goss. Since 1979, has worked as solo dancer with the Tanztheater Pina Bausch company and since 1996 as guest solo dancer for the repertory pieces (Cafe Muller, Nelken, Palermo, Viktor, 1980, Ahnen, Bandoneon). In addition to working as dancer, is active as actor, artistic director and choreographer. Since 1996, teaches modern-dance and provides workshop around the world (Europe, Japan, South America).