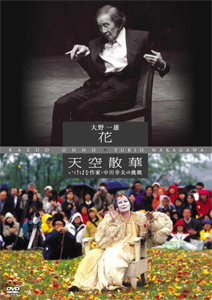 DVD Kazuo Ohno Flower / Yukio Nakagawa An Offering to Heaven
10,584yen

Disc 1: Running Time 104 minutes.
Produced by Canta Co.Ltd ©Kazuo Ohno Dance Studio & Canta Co.Ltd
Disc 2: Total Running Time 59 minutes.
Produced by NHK Enterprise: ©NHK
Subtitled in English
This DVD is coded as Region 2. Please make it sure that your player will be able to play it.
Disc 1, Flower, is a compilation of audio-visual works centred on Kazuo Ohno during the 1st decade of the 21st century. Though in his early nineties at the millennium, Ohno remained as committed as ever to performing in public. Featuring documentary footage from his last solo performance, Flower, in October 2001, the images touch upon all aspects of Ohno's world. In addition to a photo-collage of the Ohnos' daily life, Kouki Tange's thought- provoking Jesus, Flower, Death, Life ( 2006) offers an insight into Kazuo Ohno's intimate existence. Filmed interviews with Ushio Amagatsu and Hideo Kanze, recorded at the gala celebration for Ohno's centenary birthday, render homage to one of Japan's most internationally renowned performers.

Disc 2, An Offering to Heaven, is a re-edit of an NHK documentary filmed and broadcast in 2002, based around the life and work of the Ikebana master, Yukio Nakagawa. Like Ohno, Nakagawa is a maverick force; an outsider whose constant self-questioning has kept him at a distance from the conservative world of traditional flower arranging. In a meeting of kindred spirits, Nakagawa and Ohno collaborated on numerous performances since the mid-90s. Nakagawa's approach to flowers echoes Ohno's stance to the body. Both men are artists of utter conviction, whose works do not leave one indifferent. Both have dedicated their lives to their respective arts at considerable personal expense. Both have been outsiders, and only in latter years have they reaped esteem and recognition. This film documents the joint-performance that took place in May 2002 on the Shinano riverbed in Niigata prefecture, in which Nakagawa embarked on an outlandish dream of casting some million multi-coloured tulips to the skies from an airborne helicopter, as the wheelchair bound yet indomitable Ohno danced under the swirling shower of petals in the rain

An Offering to Heaven is a magnificent testimony to the courage, vitality and determination shown by Ohno and Nakagawa, who in spite of great adversity, created an unforgettable moment of true beauty. It is a work of pure inspiration.

Subtitled in English

Translation : John Barrett
Photos: Tatsuya Shiratani; Akiko Kimoto; Eikoh Hosoe
Sleeve Design: Ryohei Hashimoto