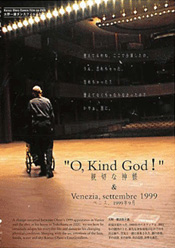 "O, Kind God!"
Published 2003 by Canta Ltd. 86 minutes DVD
4,320yen
Region code: ALL
Subtitled in English and Italian
Featuring Kazuo Ohno and Yoshito Ohno, directed by Gianni Di Capua.
The DVD includes "O, Kind God!" filmed in July, 2001 at the Ohno's, and a short piece,"Venice, September 1999"

"O,Kind God!"is another take on Kazuo Ohno. This moving testimony to the effects his physical evolution has had on his every-day life and dance reveals yet even more strongly that ever-present and life embracing emotions so characteristic of all his previous work. In his appearance in Venice (1999) and a series of performances in his home in Yokohama in 2001, Ohno powerfully demonstrated that his dance embodies life in all its aspects. (Now, though physically immobile), Ohno's very presence continues to exude emotion: it overflows with facial expressions and delicate hand movements; fluid as water and changeable as the sky.

This documentary reveals what dance is truly about.
Kazuo has given us something very precious.