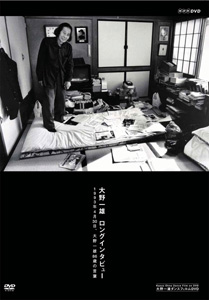 "Kazuo Ohno Long Interview"
Published 2006 by NHK Enterprise 108 min. DVD
4,104yen
Region code: ALL
Subtitled in English, Italian, Spanish and French.
"This is DVD is a testimony to Ohno's humanist approach to both life and performance. Ohno's stream of words encapsulates a philosophy of life, his constant questioning of himself and his approach to dance, and ultimately, his steadfast conviction that dance and life are but one."(from DV's package text)
Kazuo Ohno talks his philosophy of life and dance for about 90 minutes passionately.