Yoshito Ohno's tour in Brazil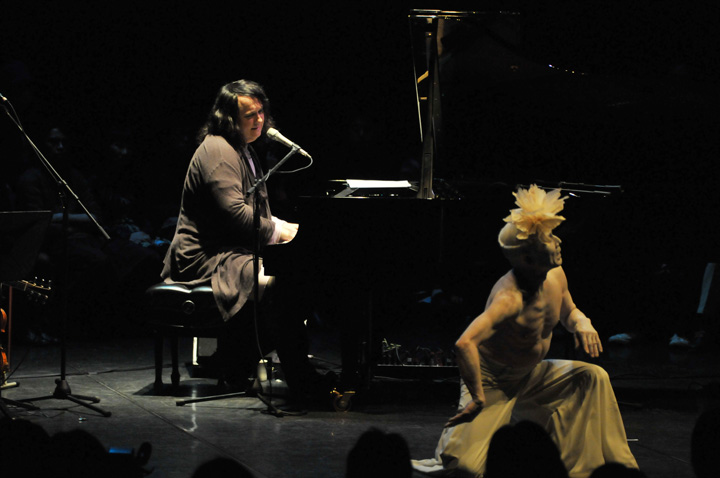 Beginning in 1986, this is going to be Yoshito Ohno's 7th time to come to Brazil. This tour includes the 3rd "Antony and the Ohnos" in which Yoshito co-performs with Antony from Antony and the Johnsons, the commemorative performance for 80th anniversary of its foundation for Comunidade Yuba, which locates about 600 kilometers northwest of Sao Paulo, and other events. The Comunidade Yuba is a community farm established in 1935 by Isamu Yuba under the concept of "To plow, to pray and be an artist." 4 generations are active in their ballet company, which was started by Akiko Ohara, the dancer who used to perform with Tatsumi Hijikata in 1950s.

Period
June 27 – July 19, 2015
Venue
SESC Vila Mariana (Sao Paulo)
Cidade das Artes in Rio de Janeiro
Teatro Yuba (Comunidade Yuba, Aliança)
Teatro SESC Ancieta (Sao Paulo)

Performance with Antony
 
"Antony and the Ohnos"
Date
Wednesday, July 1 and Thursday, July 2, 2015. Starts at 21:00.
Venue
SESC Vila Mariana in Sao Paulo
*Related Link:
http://u111u.info/m4sX
Yoshito's Solo Performance in Rio de Janeiro

"Flower and Bird"
80th Anniversary of Comunidade Yuba: Performance with Akiko Ohara

"Flower and Bird"
Date
Thursday, July 9, 2015
Venue
Comunidade Yuba (a/c Associação Comunidade Yuba C.P.531, 1a Aliança)
Co-performer
Akiko Ohara



Akiko Ohara
She studied dance under Mitsuko Ando in Japan. In 1957, she did duo with Tatsumi Hijikata under the name of Akiko Zushi in Tokyo. In 1961, she moved to Comunidade Yuba with her sculptor husband Hisao Ohara and started Yuba Ballet Company. In Kazuo Ohno Dance Festival 2009 held in Yokohama, she co-performed with Yoshito Ohno in "Forbidden Color: work in progress" to commemorate the 50th anniversary of the ever first Butoh piece "Forbidden Color" performed by Tatsumi Hijikata and Yoshito Ohno in 1959.
*Related Link:
http://brasil-ya.com/yuba/index.html
On Saturday, July 11, Comunidade Yuba celebrates Festa Junina with Yoshito.

This is made happen thanks to the precious support by SESC Sao Paulo.
Yoshito's performance in Sao Paulo

"Flower and Bird"
| | |
| --- | --- |
| Date | Thursday, July 16, 2015 |
| Venue | Teatro Sesc Anchieta |