Lieuichi Yoshida photo Exhibition
Being with Kazuo Ohno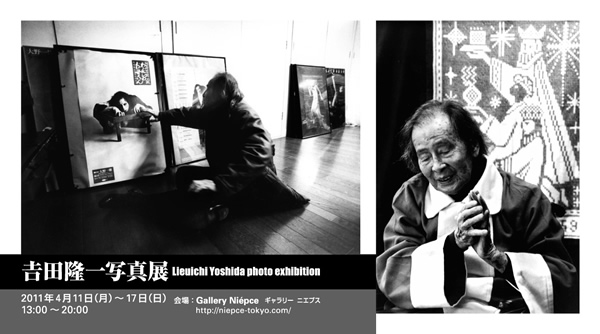 Lieuichi Yoshida, photographer, who passed away in April of 2010,
took pictures of Kazuo Ohno since 2001 as his lifework.
The exhibition includes a series of Ohno's shot in the Studio and
the landscapes of Berlin that he admired.
Dates

April 11 thru 17, 2011

Time

13:00-20:00

Venue

Gallery Niépce http://niepce-tokyo.com/
Free admission

Info.

TEL 03-5976-0768 During the exhbition03-3356-8807 Email: jointspot@yahoo.co.jp
Presented by Lieuichi Yoshida Exhibition Committee
Supported by Kazuo Ohno Dance Studio
Closing party
Date

April 17

time

16:00-18:00

Place

Yotsuya Hiroba

Free of charge. Your contribution is welcome!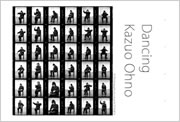 New release of Kazuo Ohno's flip book
Dancing Kazuo Ohno
Photo and concept : Lieuichi Yoshida
Size : 100mm×148mm×9mm, 40 pages (bilingual, black and white)
Price: 1,050yen (tax included)
Publiched by Canta Co.Ltd


Information, Order